Ottawa — On December 17, James Clancy, the National President of the National Union of Public and General Employees (NUPGE), attended the Supreme Court of Canada review of the Ontario Court of Appeal ruling that in November 2008 ordered the McGuinty Liberals to drop its ban on farm unions.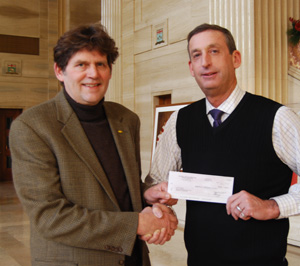 James Clancy and Wayne Hanley

Clancy pledged his union's support to the UFCW Canada cause, and used the occasion to present a $15,000 donation from NUPGE's Social Justice Solidarity Fund to the Agricultural Workers Alliance (AWA). The contribution supports the valuable work the AWA does, in asscociation with UFCW Canada, on behalf of agricultural workers.
The AWA operates nine worker support centres across Canada that provide a variety of services to agricultural workers regarding their rights as workers and the benefits to which they are entitled. In 2009 the AWA centres handled thousands of files assisting farm workers with their health, safety, housing, benefit eligibility and workplace rights concerns.
Clancy paid tribute to UFCW Canada's dedication and hard work over the past two decades in protecting and promoting the rights of Canada's farm workers. "UFCW Canada has committed a great deal of energy and resources over the years in trying to stop the exploitation of farm workers and ensuring their rights are protected," Clancy said.
"You have been there for farm workers across Canada – in the courts and in the communities where they work. It is because of UFCW that farm workers will soon have the same human rights as all other workers, including their right to join a union and bargain collectively."
In accepting NUPGE's Social Justice Solidarity Fund donation on behalf of AWA, Wayne Hanley, National President of UFCW Canada stated, "This has always been a question about justice and equality. We very much appreciate that NUPGE has been there over the years with UFCW Canada in support of our struggle."