Guatemalan migrants
Links
SEND A LETTER



Help make a difference.
Tell decision makers to stop the injustice and oppression now!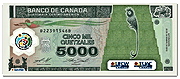 Commemorative "Quetzal"
issued to mark campaign progress
The Outrageous Contract Terms


Click here to see a copy of the
actual contract documents and their dehumanizing terms.

No more Injustice and Oppression against Migrants!
Would you be willing to waive your human rights to get a job that most Canadians don't want?

That's what 4,000 Guatemalan men and women are asked to do when they come to work in the Canadian agriculture industry.
Guatemalan migrants talk about the Temporary
Foreign Workers Program and
how it abuses workers and their rights.
Before they're allowed to make our food, Guatemalan migrant workers have to sign a contract that orders them to:
"During your stay in Canada, you should only do the activities you are assigned to and should not distract yourself with any group or association"

"Reasons to exclude you from the program that will force you to pay your plane ticket: alcoholism, theft, lack of respect and sexual relations"

"Upon arrival at the farm, the employer will keep your passport for the duration of your stay in Canada"

"Use deodorant before the flight and every day you stay in Canada"

"Beware of having relations with women"

"In case you needed to go back to Guatemala before ending your contract, you will have to prove that you have a good reason. Even then, the employer can choose whether to hire you the next season"

"You should keep your hair short to avoid lice"
The dehumanizing terms of this contract were drafted by the Canadian agri-business employer group FERME and – more shockingly – the International Organization for Migration – an intergovernmental agency dedicated to "promoting humane and orderly migration for the benefit of all."

And until this campaign began, Guatemalan migrant workers had to seal the contract with a $400.00 (CDN) deposit – which is the equivalent to 17% of the average annual income for Guatemalans. Can you imagine losing nine weeks of pay for demanding to be treated like a human being?

That changed after this campaign prompted the International Organization for Migration (IOM) and Canadian employer associations FERME and FARMS to stop demanding this outrageous security payment, but the other degrading terms of the contract continue.

Together we can keep the pressure on to bring full justice to Guatemalan migrant workers in Canada.

Stop the Injustice Of Migrant Contracts! CLICK HERE to send a quick protest letter to the politicians, bureaucrats and employers who are forcing these inhumane conditions on the people who make our food.

It only takes 30 seconds and it makes a real difference!