Activists and union educators from seven UFCW Canada local unions recently met in Kempenfelt, Ontario, to compare notes and share ways to improve the union's already renowned contribution to popular education and skills development.

Since 2004, the union's leading instructors and facilitators have met every year at the UFCW Canada Training & Education Conference to develop and test resources created to strengthen the union's activist culture. The seventh annual conference drew labour educators from UFCW Canada Locals 175 & 633, 247, 401, 832, 1000A, and 1977.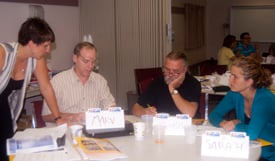 "This year's conference focused on the key role education plays in helping the union to achieve its central goal of creating better living standards for working families through growing the union and helping non-organized workers to exercise their right to bargain collectively," says Bryan Neath, UFCW Canada director of the Ontario Region, who participated in the conference and presented an overview of the union's growth, density and membership trends. 

In addition to the information provided by Brother Neath, the union's educators also participated in a series of discussions and workshops directly related to the growth agenda, including two sessions called Learning to Organize and Politics & Education.
 

"The right course curriculum is essential, but the learning environment is just as important. People learn differently and we need to make sure that every course and workshop is reflective of those different learning styles and needs," adds Brother Neath, referring to several conference sessions – including Classroom Dynamics, Clip-Nation, and Assessment – dedicated to maximizing classroom participation and course effectiveness.


Vol. X No. 38 • September 27, 2010