Directions Newsletter
As the G20 sets up shop in downtown Toronto, UFCW Canada is working with its allies to make the final arrangements for two public forums that promise to engage activists and raise some essential questions about the impact of globalization on workers and their communities.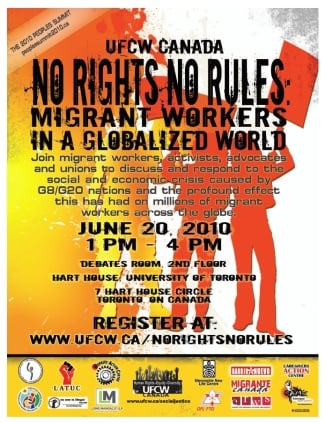 The first forum called "No Rights No Rules – Migrant Workers in a Globalized World" will take place at the University of Toronto's Hart House on Sunday, June 20, at 1:00 p.m. The discussion will include migrant workers, community activists, advocates, and labour leaders from a variety of countries who will focus on a number of issues facing Canada's most precarious workforce.

The second forum called "Walmart: the Face of Global Greed" will take place in the Lester B. Pearson room at the Best Western Primrose, located at 111 Carlton Street in Toronto, on Monday, June 21. The discussion will start at 1:00 p.m. and will involve some of North America's leading labour organizers and "Walmart Effect" experts.

In addition to the Migrant Workers and Walmart forums, UFCW Canada will be launching a special website to communicate with members on key globalization issues and showcase the union's involvement in the actions leading up to and during the People's Summit.


To register for the forums and to find out more, click here.

Vol. X No. 23 • June 14, 2010