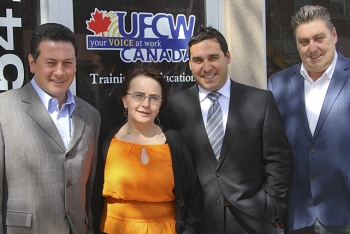 For the president of UFCW Canada Local 102, the key to building a local union can be summed up in a few words. "It's all about servicing," says Dominic Musitano, who took the helm of Local 102 three years ago and since then has dedicated himself to earning the trust of hospitality workers and creating an organizing culture in Niagara Falls, one of Canada's must-see destinations for tourists from around the world.

"Hospitality workers in the Niagara region know about Local 102, and they like what they know," says President Musitano, from the local union's office in the heart of the city's entertainment district, surrounded by hotels, restaurants, night clubs and other popular attractions.

"The office is a few steps from most hotels, and hospitality workers know there is always someone here for them. They also know our scrappy staff by name, and that Local 102 is fighting for them every step of the way," says the president of UFCW Canada's fastest growing local union.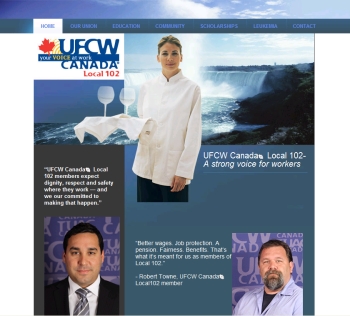 Since the Growth Summit (see DIRECTIONS 10.11), Local 102 has grown its total membership by over 20% with a series of organizing victories in the accommodation and food services industries.

"Another reason why we're doing so well is all the support we've received from the National Office," says President Musitano, pictured with the local union's small but mighty staff. From left to right: Tony Losak, Lidia Oszurko, President Musitano and Bill Gillette.

In addition to assigning national representatives to specific organizing campaigns, the National Office recently helped Local 102 establish itself in cyberspace with UFCW Canada's first hospitality industry focused website, www.ufcw102.com .

"Local 102 is demonstrating what can happen when a local union fully commits itself to the growth agenda and to creating an organizing culture," says UFCW Canada National President Wayne Hanley. "There are thousands of hospitality workers in Canada who desperately need representation, and Local 102 is playing an important role in helping many of them to improve their working conditions and lives through collective bargaining."


Vol. X No. 26 • July 5, 2010