Directions Newsletter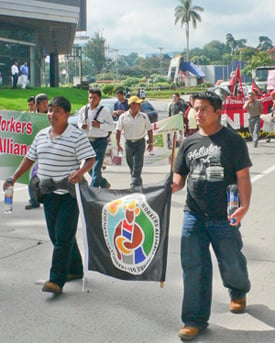 GUATEMALA CITY -
(01 Sept 2010) - Hundreds of Guatemalan migrant workers and their community allies marched through Guatemala City to the steps of the Canadian embassy on Wednesday, to protest the abusive treatment of migrants under Canada's Temporary Foreign Workers program. The workers at the protest had been fired and repatriated for defending their labour and human rights while working in Canada.

UFCW Canada, the Agriculture Workers Alliance (AWA), Global Workers Justice and a number of other Guatemalan and international organizations also participated in the demonstration, and joined in the call for a complete review of the Temporary Foreign Workers Program because the federal government program fails to provide migrant workers with legal protection or access to the justice system even when the workers are mistreated.

The protesters called on Canada's federal government to put a stop to the exploitation of Guatemalan migrant workers at the hands of the International Organization for Migration (IOM) and unscrupulous Canadian agriculture employers' associations. The protest was organized by AGUND — the Association of Guatemalans United for Our Rights — which called for Canada's federal government to reinstate all Guatemalan migrant workers who were fired after complaining their labour and human rights were violated.

Each season about 4,000 Guatemalan migrants work in Canada's agricultural regions. On Wednesday some of those former workers denounced a failed TFW system that allows Canadian employers to fire and deport workers who fall ill, are injured on the job, or simply refuse to comply with intolerable working and living conditions. They also denounced Canada's government for turning a blind eye to other TFW violations, such as the confiscation of workers' personal documents, the refusal to provide for medical assistance while in Canada, and threats to workers that they will be fired and blacklisted if they exercise their right to join a union in Canada.

"The Canadian government can't pretend the problem is just a few bad employers," says Wayne Hanley, the National President of UFCW Canada. "No wonder the workers are angry at our federal government. It has been complicit in the violation of the worker's fundamental rights by allowing the farm industry and the IOM to treat migrant workers like disposable commodities."

UFCW Canada is Canada's largest private sector union and for decades has led the campaign for justice for domestic and migrant agriculture workers.

"The fact is that for the last 7 years the IOM has been working hand in hand with the Canadian agriculture industry and our federal government to contract and export cheap labour to Canada," says Hanley. "The federal government has rubber-stamped these TFW worker contracts — contracts that violate provincial, Canadian and international law on labour and human rights."

In the wake of the protest in Guatemala City — the largest civil action ever staged at that city's Canadian embassy — consular officials met with representatives of UFCW Canada, the AWA, Global Workers Justice and AGUND to discuss the plight of Guatemalan migrants under Canada's Temporary Foreign Workers Program.

Earlier this month, UFCW Canada launched an international campaign to call attention to the abuse of Guatemalan migrant workers in Canada.

In July, UFCW Canada also joined Mexico migrant workers outside the Canadian embassy in Mexico City to protest the TFW.



Vol. X No. 36 • September 13, 2010