Directions Newsletter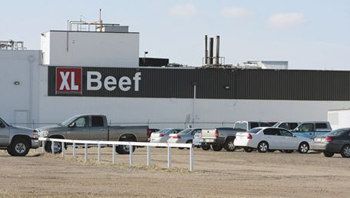 It began as a so-called "layoff", turned into a 40-week lockout, and reached the end of the line when on August 13 Calgary-based Nilsson Brothers Inc. told UFCW Canada Local 1400 members that the XL Beef slaughterhouse they worked at in Moose Jaw, Saskatchewan, will be permanently closed within 90 days.

"We were hoping otherwise, but we were concerned from the get go that the Nilsson Brothers had no intention of reopening the plant once they shut down in April," says Norm Neault, president of UFCW Canada Local 1400. "Everything they've done since proved that."

The beef slaughterhouse, which employed about 200 Local 1400 members, had been closed since April 2009 when Nilsson announced the plant was shutting "temporarily" because of a lack of cows to slaughter. Meanwhile workers had been without a contract since February. Once the layoffs began, Nilsson started pushing a series of contract proposals full of concessions.

In September 2009 the membership overwhelmingly rejected the company's last offer. The company then turned the layoff into a lockout.

"Nilsson was not really looking for a deal," says Brother Neault. "They even insisted on the workers agreeing to overtime terms that contradicted the employment standards regulations. They knew the offer would be rejected, and they didn't need the plant because they had extra capacity at their two Alberta locations."

Nilsson Brothers / XL Beef own a beef plant in Calgary. They also own Lakeside Packers, which they purchased from Tyson in April 2008. Workers at both units are represented by UFCW Canada Local 401.

Nilsson has said the lockout will continue until the plant officially closes. Until then Local 1400 members will remain on the picket line where they've been for almost 300 days. "The members have shown tremendous resolve, and the moral and financial support from UFCW brothers and sisters from across Canada and the United States was a tremendous help," the Local 1400 president says.

"We've contacted Nilsson to negotiate a closure agreement and adjustment program. We expect them to take the high road," says Brother Neault, "and enhance the severance already provided by the collective agreement and treat the members in a decent and humane way."

Meanwhile, the same day the closure was announced by Nilsson Brothers, another company announced it will be re-opening a Moose Jaw pork packing plant expected to employ more than 200 workers.



Vol. X No. 33 • August 23, 2010