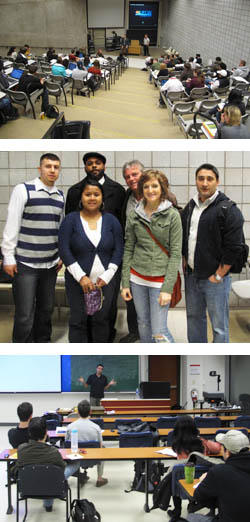 March 9, 2010 marked the first-ever chapter launch of a new national, student-led activist organization – Students Against Migrant Exploitation, or SAME – at Carleton University in the nation's capital, sponsored by UFCW Canada's Human Rights, Equity & Diversity (HRED) department. A few days later, on March 12, more than a hundred students took part in launching another SAME chapter, this time on the campus of Brock University in St. Catharine's, Ont.

The Ottawa Migrant Workers Forum, co-sponsored by the Ontario Public Interest Research Group (OPIRG) featured a screening of the documentary Los Mexicanos – le combat de Patricia Pérez, the documentary profiling the late Patricia Pérez, who helped establish and ran the UFCW Canada-sponsored Agriculture Workers Alliance (AWA) support centre in Saint-Rémi, Que. (A second AWA centre in Quebec was established in 2010 in Saint-Eustache, bringing the total number of centres in Canada to 10.) The Carleton University crowd, including students and faculty alike, was addressed by Naveen Mehta, UFCW Canada's national HRED director.

At Brock, meanwhile, the event included community leaders as well as student activists, and was supported by labour studies professor Larry Savage. SAME's Brock chapter president Jazmine Mitchell opened the event with a brief but inspiring message, urging students to become active. "Together, students can make a huge difference in the fight for equal rights for migrant workers," she told the crowd. After viewing the UFCW Canada-produced documentary Vincenzo Pietropaolo – witness to the Harvest Pilgrims, the forum was given the opportunity to learn first-hand from the experiences of Mindy Leung, a farm worker from Windsor, Ont.

Further events are planned for both campuses, as well as at other universities across Canada as SAME organizing continues.


DIRECTIONS • Vol. X No. 13 • April 5, 2010