Directions Newsletter
Reform-minded activists in the United States made history in March with the passage of health care reform legislation by both houses of Congress, earning the signature of U.S. President Barack Obama.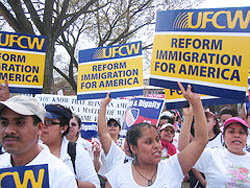 But no one is resting on those laurels just yet. On the same day the House of Representatives was busy giving final sanction to the health care bill, a crowd estimated as high as a half-million people rallied along a seven-block length of the Washington, D.C., National Mall in front of the Capitol in support of much-needed immigration reform.

As seen in photo, droves of UFCW member-activists were in the crowd, which was addressed through a video link by President Obama himself. "I pledge to do everything in my power to forge a bipartisan consensus, this year, on this issue," Obama told the cheering crowd via giant TV screens on the Mall's perimeter.

DIRECTIONS • Vol. X No. 13 • April 5, 2010