Directions Newsletter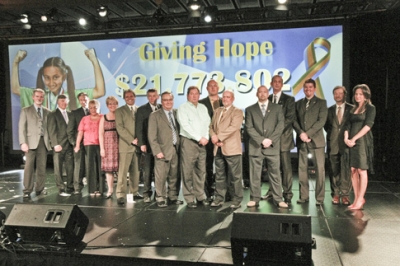 The results are in: UFCW Canada members, friends and supporters raised a total of $1,914,262 for leukemia research in 2009-2010. That makes the last 12 months the fourth year in a row that members from every province in the country have combined their efforts to generate and donate over a $1-million to the fight for a cure.

In keeping with UFCW Canada tradition, the union's annual fundraising tally was announced at the Gala, which was started 21 years ago to celebrate the membership's awesome commitment and contribution to finding a cure for leukemia, lymphoma and other blood related cancers.

The largest single fundraiser adding to this year's total was the annual UFCW Canada Local 12R24/The Beer Store bottle drive called "Returns for Leukemia", which shattered yet another record raising a total of $1,065,412.

This year's Gala was extra special because it marked another outstanding milestone for the union's longtime fundraising campaign. Since the first bake sales, bowl-a-thons, 50-50 draws and numerous other activities were organized by UFCW Canada members over twenty-five years ago, they have now raised and donated $21,773,802 to fight the disease that afflicts thousands of Canadians and their families.


"The UFCW Canada contribution has made – and continues to make – a profound difference in the search for a cure and in the lives of cancer sufferers and their families, who face enormous challenges each and every day," says Caren Sherman, Grants & Awards Chair of the Leukemia & Lymphoma Society of Canada (LLSC). "Without the remarkable efforts of UFCW Canada members, a number of patient assistance programs and potentially groundbreaking research projects simply could not exist."

The funds raised by the campaign support a long list of projects, services and research prizes, including the UFCW Canada Award for Leukemia Research which is a $120,000 research grant awarded every two years to the most advanced researchers in Canada.

"The remarkable fundraising achievements of UFCW Canada members is an outstanding example of what can happen when working people dedicate themselves to a common cause," says UFCW Canada National President Wayne Hanley, who had the honour of hosting this year's Gala.

"The membership's long-standing commitment to this cause – and the millions raised – is an amazing accomplishment that generations of UFCW Canada members should take great pride in. I certainly do," says National President Hanley. "As the union always willing to fight the big fights, I know we will keep combining our efforts until this disease is gone for good."
Click on the image above to see the photo gallery.
Vol. X No. 23 • June 14, 2010