Directions Newsletter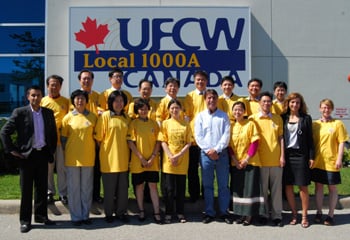 UFCW Canada has become a leader in tackling immigrant and migrant issues facing communities throughout Canada. More than 250,000 highly vulnerable migrant workers enter Canada annually working in temporary employment within an array of sectors.

On June 18, 2010, UFCW Canada Local 1000A and the UFCW Canada National Office jointly hosted a forum with the Federation of Canadian Municipalities (FCM) for a delegation of Chinese unionists, academics and government officials who were in Canada to learn about unionism and migrant workers advocacy and programming.

The Chinese Delegation was in Canada as part of the Canada/China Technical Co-operation in Migrant Labour Rights Project (MLRP). The aim of MLRP is to strengthen China's capacity to meet its international labour rights commitments, including access to information for rural Chinese who are forced to internally migrate to mainly urban Chinese cities in search of work. Given the fact that the current rural migrant population is estimated at 144 million and is expected to reach more than 250 million within the next decade, internal migration may be the only alternative for many workers.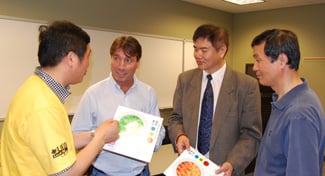 The forum was held at UFCW Canada Local 1000A offices where Local 1000A Secretary-Treasurer Tony Soares led the delegation through a tour of the Local Union, while navigating a variety of questions from the delegation regarding issues ranging from the allocation of union dues to the functioning of the Local Union. "This forum was a great opportunity to showcase the work of our local union as one of the leaders in the areas of diversity, community outreach and equity programs for our members and potential members," says Naveen Mehta, Director of Human Rights for UFCW Canada, provided a historical and critical analysis of the trade union movement in Canada from its humble beginnings to the present day— tracing the changes and evolution which have now led UFCW Canada and some local unions to develop specialized strategies such as local union Community Action Networks (CAN) and the multi-faceted National Strategy on Migrant Workers Rights.

"We were again quite honoured to be requested by the Chinese government and the FCM to host this forum and share our work in the area of advocacy on behalf of migrant workers," says UFCW Canada National President Wayne Hanley. "As this follows a similar forum we prepared with Local 1118 earlier this year in Alberta, we are increasingly being asked for guidance on how to strategically put programs in place that try to level the playing field for migrant workers."


Vol. X No. 27 • July 12, 2010