UFCW Canada Local 1118 members at the Revera Long Term Care Centre in Medicine Hat, Alta., have ratified a new collective agreement at the 143-bed facility. The contract covers about a hundred members working as licensed practical nurses, nursing attendants, and dietary and cook staff, as well as housekeeping, laundry, and recreational staff.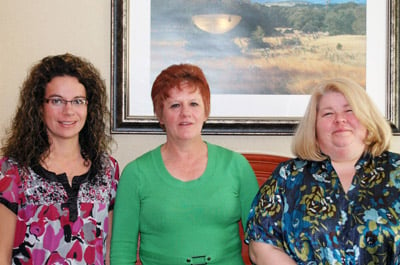 "Congratulations to the bargaining committee at Revera for negotiating a good contract with solid gains, in spite of the rough economy," says Albert Johnson, president of UFCW Canada Local 1118. "Their hard work, long hours, and their dedication to serving their fellow members helped achieve this collective agreement." Pictured are (l-r) bargaining committee members Natasha Schmidt, Lorna Muir, and Kim Muncie.

The collective agreement provides members with a 3% wage increase in each of the first, second, and third years of the contract, and a 2.5% increase for the remainder of the three-and-a-half-year agreement. Also included are benefit increases. In addition, weekend premiums will increase from $1.50 per hour to $4 per hour over the term.


DIRECTIONS • Vol. X No. 12 • March 29, 2010