UFCW Canada's successful Youth Internship Program (YIP) for young member activists kicked off its 10th annual program with a weeklong session for a dozen Ontario members. National representatives Devin Yeager and Chris O'Halloran facilitated the program at the Kempenfelt Centre near Barrie, Ont., with instruction and workshops in a wide range of subjects including collective bargaining, union stewardship, political action, and Canadian labour history.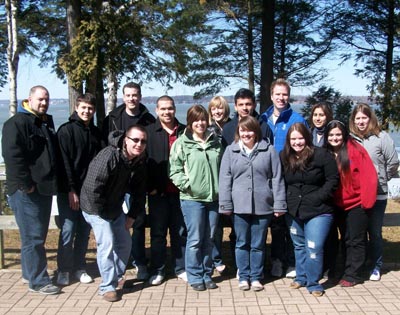 "It is always a source of inspiration to see young members take active and meaningful roles in their union. UFCW Canada, after all, has the highest percentage of young members of any union in the country," says UFCW Canada National President Wayne Hanley. "We are proud to be able to offer this kind of basic training for activists at an early point in their development as trade unionists. In fact, both Chris and Devin – who facilitated the recent program – are past YIP participants themselves."

Seen on a balmy spring day by the sparkling waters of Kempenfelt Bay are (l-r) Yeager; Evgeny Podobedov, a member of UFCW Canada Local 175 at the Metro store in Oakville; Jim Ripley, Local 12R24, The Beer Store, Oshawa; Dylan Palmer, Local 175, IGA, Newcastle; Cenk Meral, Local 175, Maple Leaf Foods, North York; Amii Abraham, Local 175, First Student school bus, Port Colborne; Kimberly Hansen, Local 1000A, RCSS, Peterborough; Jimi Reyes, Local 1000A, No Frills, Hamilton; Vicky Stubbs, Local 1977, Zehrs, Tillsonburg; O'Halloran; Carly-Ann Matos, Local 1977, Zehrs, Tillsonburg; Nawal Bouchahma, Local 1000A, Loblaws, Toronto; June Compton, Local 175, Metro, Toronto; and Robyn Valley, Local 175, Food Basics, Brantford.
YIP candidates are nominated by UFCW Canada local union presidents, and have the opportunity to take part in an intensive program that can include classroom and workshop learning, meeting other union activists and political leaders, and job-shadowing with union organizers among other activities. Further regional YIP sessions for 2010 are scheduled for British Columbia and Alberta, the Atlantic Provinces, and Saskatchewan and Manitoba. For more information, please visit
www.ufcw.ca/yip
.


DIRECTIONS • Vol. X No. 14 • April 12, 2010