Directions Newsletter
Within three short months of being launched, the new Students Against Migrant Exploitation network, or SAME, is already building momentum, gaining interest and making a difference.

The national activist student-led organization is sponsored by the UFCW Canada Human Rights, Equity & Diversity department and was launched last March to help raise awareness about the plight of migrant workers (see DIRECTIONS 10.13).

Since the spring, the SAME network has established new chapters at McGill University in Montreal, York University in Toronto, and Brock University in St. Catharines, Ontario, which recently held its first major initiative during the last weekend of May.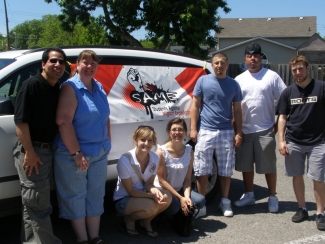 To help gain a better understanding of a day in the life of a migrant worker, members of the Brock SAME Chapter spent the scorching hot weekend touring local farms and talking to the people who make an essential contribution to one of Canada's most important industries.

In addition to touring greenhouses and other workplaces, the student-activists distributed information, shared refreshments and talked to workers about UFCW Canada's new Migrant Workers Scholarships.

"The tour was a great opportunity for us to learn about the many issues facing migrant workers," says Brock SAME Chapter President Jazmine Mitchell, who joined the vanload of student-activists. "During the summer months we hope to have a greater number of students involved in the outreach programs to be able to deliver health and safety as well as ESL courses through both the AWA Simcoe Center and the mobile center."

The mobile centre is an exciting new initiative that will be rolled out next month when the Brock SAME Chapter hits the road with a rented RV to expand the work it started at the end of May.

In keeping with SAME's belief that fighting for justice can be fun, the weekend tour ended with a soccer game and a meal with the "invisible workers" who make our food.


Vol. X No. 23 • June 14, 201