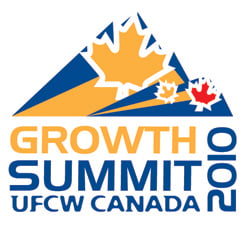 UFCW Canada leaders, organizers, and activists are gearing up for next week's first National Growth Summit in Toronto, which will include a series of growth-focused discussions, workshops, and presentations. At this writing, about 150 participants had pre-registered for the event.

"We are very pleased that we will have UFCW International President Joe Hansen participating in the important conference," says UFCW Canada National President Wayne Hanley. Hansen will address participants on Monday, March 15.

The conference takes place at the Westin Harbour Castle Hotel in Toronto, with three full days of activities from March 15 to 17, plus registration and an opening plenary on the evening of Sunday, March 14. Any questions regarding the Growth Summit should be directed to Paul Meinema in the National Office.
Vol. X No. 9, March 8, 2010