You must have java enabled to watch this video

In the past 10 years, over a 170 workers have died on Alberta farms. Kevan Chandler was one of them.

It was Father's Day, June 18, 2006. Kevan got up to go to work, had a coffee with his wife, kissed his kids goodbye, drove to the farm, and never came home again.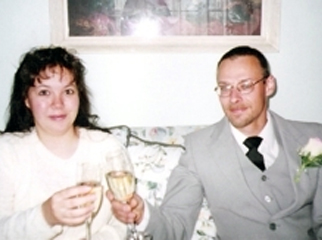 Lorna and Kevan Chandler

While doing his job in a silo at Tongue Creek Feeders near High River, Alberta, Kevan was suffocated by several tons of falling grain – a terrible accident that prompted the call for a public inquiry into Kevan's death, and the dangers faced by agriculture workers.

The government also asked the inquiry, led by Justice Peter Barley, to develop recommendations that might prevent future fatalities.

Justice Barley released his findings on January, 27, 2009, but, so far, the Alberta government hasn't shown any interest in following the inquiry's recommendations, which call for most farm workers to be covered by the province's occupational health and safety legislation. In eight other province's, the safety rights of farm workers are protected by law.

Kevan's widow, Lorna Chandler, is trying to make Alberta farms safer for workers, and has spent the last two years advocating for the people who make our food every day. UFCW Canada – as the union committed to helping agriculture workers empower themselves – has joined the Chandler family's fight.

With your help, we can establish safety rights in the Alberta agriculture industry – and save the lives of farm workers.

Making a difference starts with making a stand, so join the growing number of people who are taking a few moments to say something that will help the Alberta agriculture industry become a place where more workers go home, to their loved ones, at the end of the day.