Canada's Caribana season is well underway, and UFCW Canada members are playing an important role in helping the world renowned cultural festival prepare for its very grand finale – and they're having a lot of fun along the way.

Over a million revelers are expected to participate in the 43rd annual Caribana parade in Toronto on July 31, with many UFCW Canada members playing Mas and becoming part of the unforgettable atmosphere.

"Besides being a really good time for UFCW Canada members and their families, Caribana is a great opportunity for the union to celebrate its diversity," says Winston Gordon, president of UFCW Canada Local 1993, which is coordinating its Caribana community effort with Locals 1977, 1000A, 175 & 633, and the National Office by proudly sponsoring the award-winning Louis Saldenah Mas-K Club.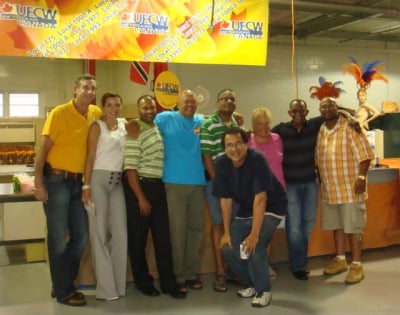 Pictured from left to right are UFCW Canada National President Wayne Hanley; Emmanuelle Lopez, National Office; Jonathan Lobo, Local 1000A; Azard Ali, Local 1993 (retiree); Heeralal "Raj" Rajkumar, Local 1993; Louis Saldenah; Lynn Sampson, Local 1977; Brother Gordon; and Ray Ramkhelawan, Local 1000A.

Besides helping the Saldenah Camp put the finishing touches on the Mas costumes for this year's parade, Locals 1993, 1977, 1000A, 175 & 633 and the National Office hosted "Summer Splash": a Caribana-launch party and sickle cell research fundraiser that drew over 200 community members and their families. The well attended event offered a wide variety of delicious Caribbean food and excellent performances – all the while raising several hundred dollars for a very worthy cause.

To see a photo gallery of UFCW Canada's participation in last year's parade click here, and to find out more about UFCW Canada's Caribana involvement, contact Winston Gordon at winston.gordon@ufcw.ca


Vol. X No. 29 • July 26, 2010